10 Crossover Leggings That'll Make You Look Stunning
You can wear leggings wherever, anytime, and they'll look great whether you're working out or lounging around. You can move freely in them, they're easy to care for, and they're comfortable. Crossover leggings, on the other hand, are growing highly popular since they are both more appealing than pairs with a traditional horizontal waistband, which can bite into your abdomen.
Crossover waistband leggings give you extra support without feeling constrictive, and their higher hip placement means you won't have to continue pulling them up during your workout. The added benefits of the cross-waist band are a longer, more elegant silhouette and a more defined waist. Wrap-waist leggings are incredibly flattering in various styles.
1、White Opaque Crossover Leggings with Pockets
While doing exercises like squatting, twisting, jogging, or stretching, this crossover legging will keep you protected and comfy, so you won't have to stop your activity to readjust or lift them. For all of your athletic endeavors, the high-waisted exercise leggings feature a tight and slimming style that is sure to flatter every body type, all while leaving you comfortable and secure with tight compression fabric.
Unlike other types of white leggings, these are made of non-see-through fabric, making them a perfect choice for daily wear and even during workouts.
With pockets to accommodate the needs of women who are constantly on the move. These leggings have pockets on each leg, so you can store anything you need to while you're wearing them, whether you're going for a run and need a place to put your phone or running errands and want a place to put your keys.
2、Butt-Sculpting V Cross Waistband Legging
These leggings feature a high-quality V waistband with intertwining panels at the front and are an essential addition to your activewear collection. They are squat-proof and sweat-proof as well. Your waist will look smaller thanks to the wide elastic waistband, which also provides a compressive fit and will remain in place as you work out. They are made of a fabric with a bare sensation and a soft, buttery texture, making them ideal for any workout.
3、Ribbed V-Waist Legging with Pockets
These long leggings are made of a ribbed performance fabric that stretches with your body and has a wide, crossover waistband that gives the impression of a smaller waist and additional support. Complete with figure-flattering side pockets and ruching at the back.
4、Ruched Front Waist Tie V-Cut Flared Leggings
The high waist and ruched style of these flare pants are pretty appealing. The tie-waist design of these leggings is great for focusing attention in the right place and giving the impression of a trimmer midsection. Stretch and move freely in the Naked Sensation's buttery soft, cool-to-the-touch fabric that gently compresses you.
5、High Waist Crossover Bootcut Leggings
The style of bootcut yoga pants for women, which include a split hem and a slight flare, draws attention to the length of your legs, giving the appearance that you are taller, slimmer, and more captivating. These women's workout pants have a flair for style thanks to our traditional flare and split hem design features. 
The one-of-a-kind crossover V-shaped wide waistband style is intended to wrap around your waist more while providing belly control and preventing the pants from sliding down. The cross-high-waisted flare pants create the correct waist and hip curves by visibly elongating the leg line and providing support and compression for the abdomen and the hips via the wide waistband with tummy control.
6、Camo High-Rise Crossover Leggings
The high-waisted camouflage legging was created to offer unrivaled ease of movement and unmatched levels of comfort. These leggings are the ideal option for subtly drawing attention to your legs thanks to the cross-wrap waistband design that is so popular with the brand and the minimal seam detailing that it features. Ideal for use while jogging, riding, working out in the gym, practicing yoga, or engaging in any other form of physical activity, as well as for everyday casual wear!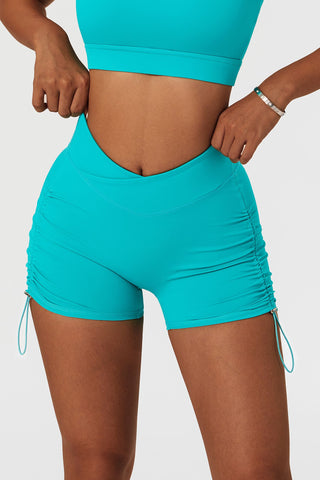 7、V-Waist Mini Shorts With Elasticated Cord Toggle
The mini shorts have a unique design made from incredibly smooth and flexible fabric. They also have a high-waisted, elasticated waistband that will remain in place no matter how strenuous your workout may become. In addition to having ruched side folds at the front and back, which offer a relaxed and compressive fit, the fabric is silky soft, and squat-proof, which enables you to exercise without any difficulty.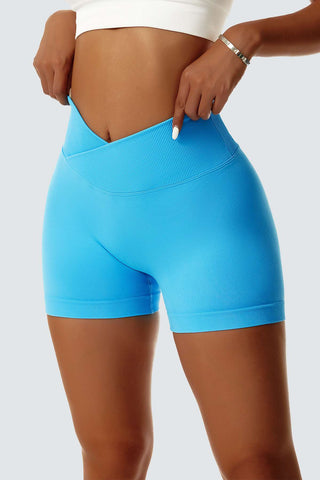 8、V-Shape Waistband Seamless Scrunch Butt Shorts
Wearing these crossover shorts during your workout will take your performance to the next level. This pair of gym shorts will put in just as much effort as you do because they are constructed from a fabric that can withstand squats, wicks away sweat, and hugs the body to shape your silhouette. You can rely on these seamless shorts to make you appear and feel excellent, and they are flawless for rest breaks, leg days, and other workouts.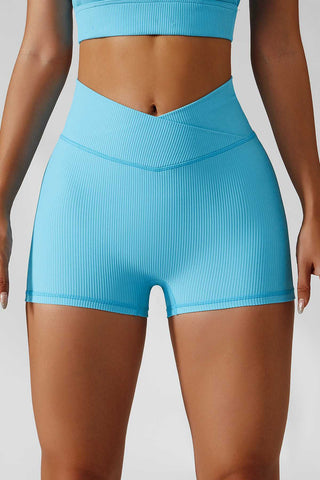 9、Ribbed High Rise Crossover Mini Shorts
When you wear these ribbed workout shorts for women, you won't have to interrupt your routine to pull them up or modify them while you squat, arching, run, or stretch. They will keep you covered and comfortable no matter what you're doing. The crossover waistband provides a contoured and slender silhouette that will look good on any body type. Additionally, the secure compression fabric will keep you comfortable and supported throughout your athletic endeavors. A versatile piece that can be worn for yoga, working out at the gym, running, or even daily.
Our shorts feature an attractive split belt that is both comfortable and stretchy. Pair them with a baggy boyfriend shirt for a casually cool ensemble. These high-waisted, silky, seamless shorts will help tone and sculpt your midsection for a more alluring silhouette. Premium Spandex and nylon fabric, both lightweight and breathable, go into making these seamless ribbed exercise shorts.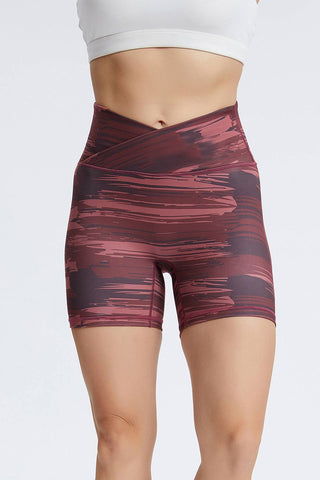 10、Camo High Rise Crossover Shorts
The high-waisted camouflage shorts are designed to offer an unrivaled level of comfort and unrestricted mobility. These crossover shorts, which come with everyone's favorite cross-wrap waistband, are the best option for subtly drawing attention to your legs while maintaining your sense of fashion. It is ideal for use while running, biking, working out in the gym, practicing yoga, or engaging in any other form of exercise, as well as for everyday casual wear.
Zioccie is your go-to brand for premium crossover leggings
Zioccie is driven by a cause that is close to its heart to improve everyone's sense of body confidence, as well as our sense of elegance and luxury. Zioccie's fashionable products encourage you to follow along for the adventure, infusing self-expression, boldness, and pleasure into every move you make, regardless of whether you're working out or just chilling.